You can use the Receipt Overview page to generate a summary of all receipts.
Applies to: Accountants, Accounting Assistants
---
This article explains how you can look at all receipts for your agency by reference, transaction date, customer, reference number, memo, total amount, available amount, and status.
This article explains how you can view all the receipts of your agency that have been [generated][created] within BindHQ. You can filter the Receipts that you see On-Screen and in the CSV download by Division, Customer, and within specified time periods. You can also filter by Void Status and Status.
You can find this page by going to the "Accounting" tab in the side navbar, then going to "General", and then selecting "Browse & View Receipts" from the Accounts Receivable tab
You can use this page to answer the following questions:
How can I view a summary of all receipts for my agency?
Which batch did a specific receipt belong to?
What is the status of a specific receipt?
The On-Screen Receipt Listing page displays the following columns: reference, transaction date, customer, due date, effective date, policy number, insured, total amounts, used and available amounts. The Accounting Posting Date has been added as an additional column to the Receipts page.
The page also contains a filter for agency bill or direct bill, Division, Status, and dates. Additionally, you can find the relevant details about the receipt under the "Net Total Due ($)", "Applied Amount ($)", and "Unapplied Amount ($)" columns.
The Reference column hyperlinks to the Receipt Detail page which provides detailed information
The Customer column hyperlinks to [either] the Retail Agency [or the Supplier] page in the CRM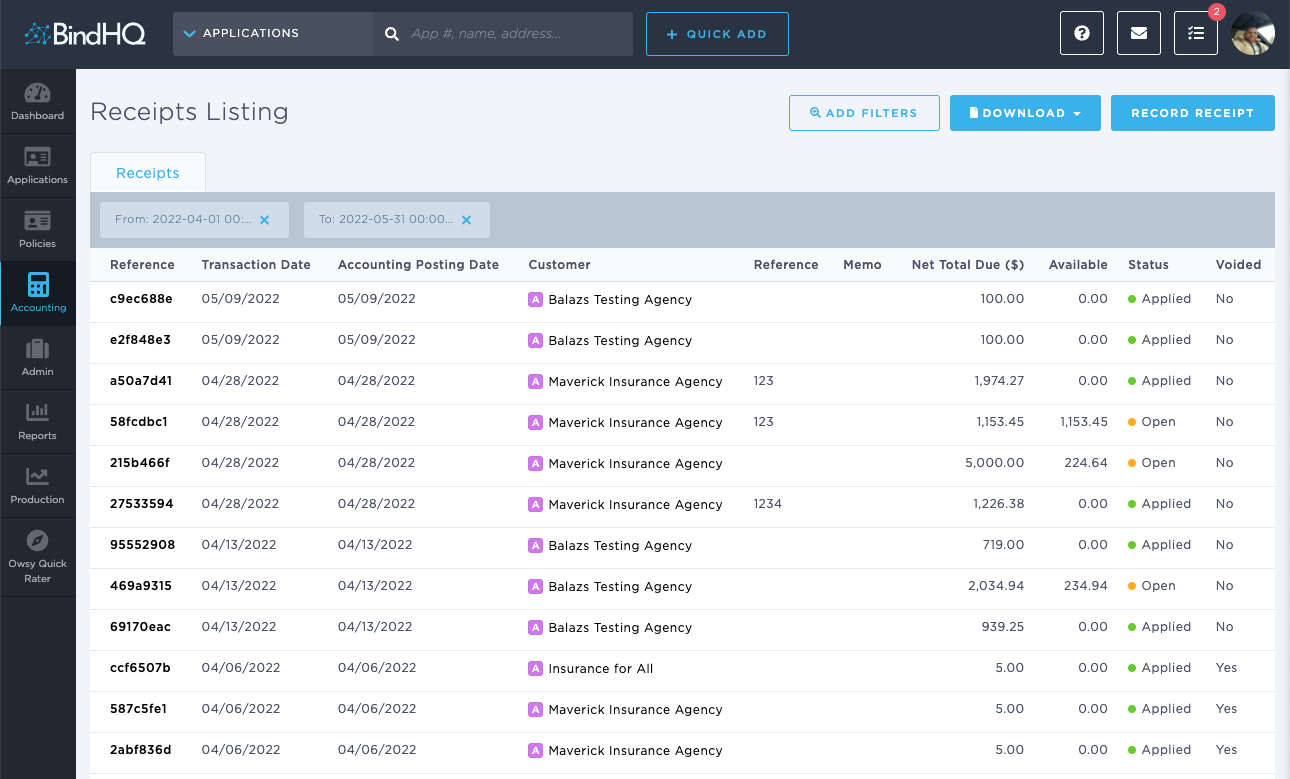 You can download the Credits [Listing] page displayed on screen by clicking the Download CSV button. You can download either a Summary CSV or a Detail CSV of the Receipts.
Any filters that you have selected in the UI will be reflected in the CSV.