You can use the Receipt Detail page to view individual invoices generated by your agency [by Division]
Applies to: Accountants, Accounting Assistants
---
This article explains how you can view the details of an individual invoice created by your agency that have been generated within BindHQ. You can filter the Invoices that you see On-Screen and in the CSV download by Division, Customer, and within specified time periods. You can also filter by Open Invoices and Overdue Invoices.
You can find this page by going to the "Accounting" tab in the side navbar, then going to "General", and then selecting "Browse & View Receipts" from the Accounts Receivable tab. You can click on the Reference column for an individual policy which hyperlinks to the specific Receipt Detail page for that policy.
You can use this page to answer the following questions:
What are the details of a specific Receipt
The Receipt Detail page displays the following information:
Customer type
Customer name
Posted Date
Source Account
Bank Account
Payment Method
Status
Deposited
Created by
Memo
Reference
On the right-hand side of the screen, it displays a financial summary, including:
Total Amount
Amount Applied
Amount Unapplied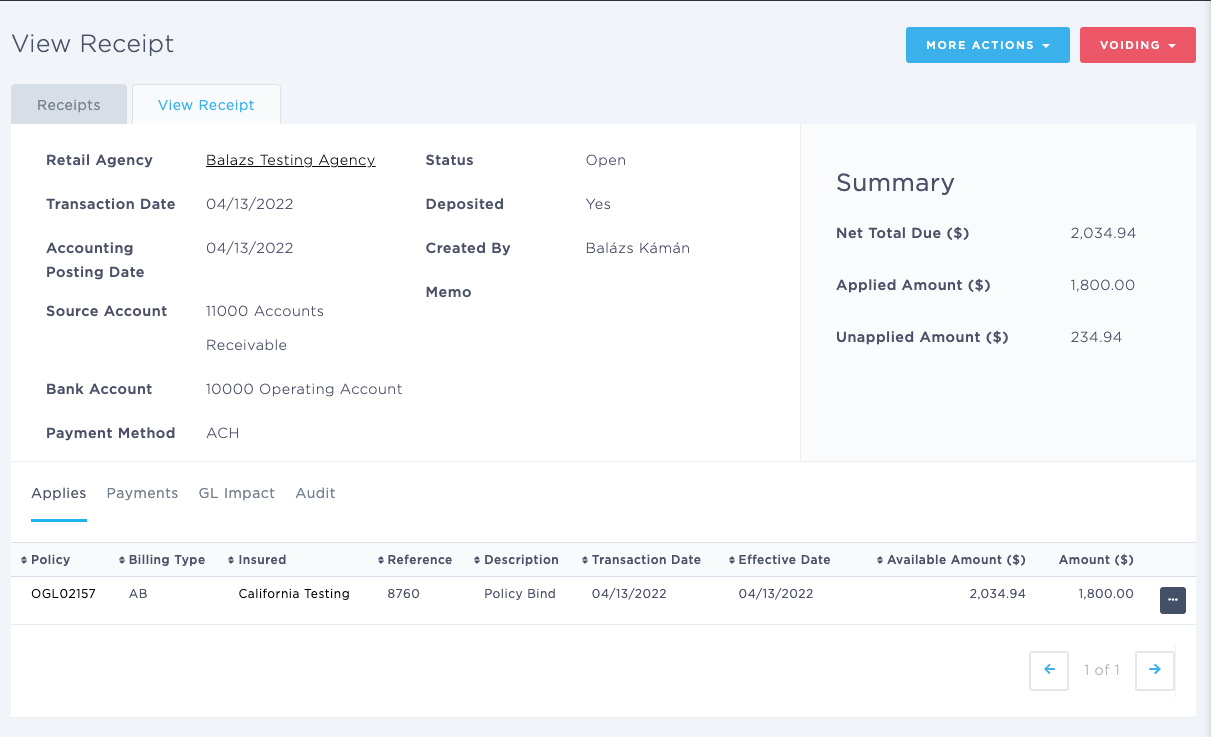 You can take the following actions from the Receipt Detail page:
Make Payment
Edit Receipt
New Receipt
Download CSV
Voiding:
The Applies tab at the bottom of the screen lists all the Policies to which the Receipt applies. It displays the following columns: Policy, Billing Type, Insured, Reference, Description, Transaction Date, Effective Date, Total and Amount.

The Policy column hyperlinks to the Policy page to which the Invoice relates
The Insured column hyperlinks to the Insured Detail page in the CRM
The Payments tab at the bottom of the screen lists the related payments.
The GL Impact tab at the bottom of the screen lists the impact of the specific receipt on the general ledger. Since this is double entry bookkeeping there are always at least two entries to reflect both a debit and a credit.



The Audit tab at the bottom of the screen lists the related audits.